Among all our products, this butter flavored industrial popcorn making machine type is the best economical one. It is heated with LPG gas but consumes less. Longze brand Industrial Popcorn Machine has auto ignition and gas entry, very easy to operate and control.Butter flavored popcorn making machine is equipped with hydraulic pump station to tilt the mixing arm and bowl for automatic discharging. Only 4 to 5 mins can make ready one bowl of popcorns. Before discharging, customers can add special ingredients for different flavors. Industrial Butter Flavored Popcorn Making Machine now previals all over the world due to increasingly popular of American spherical popcorns.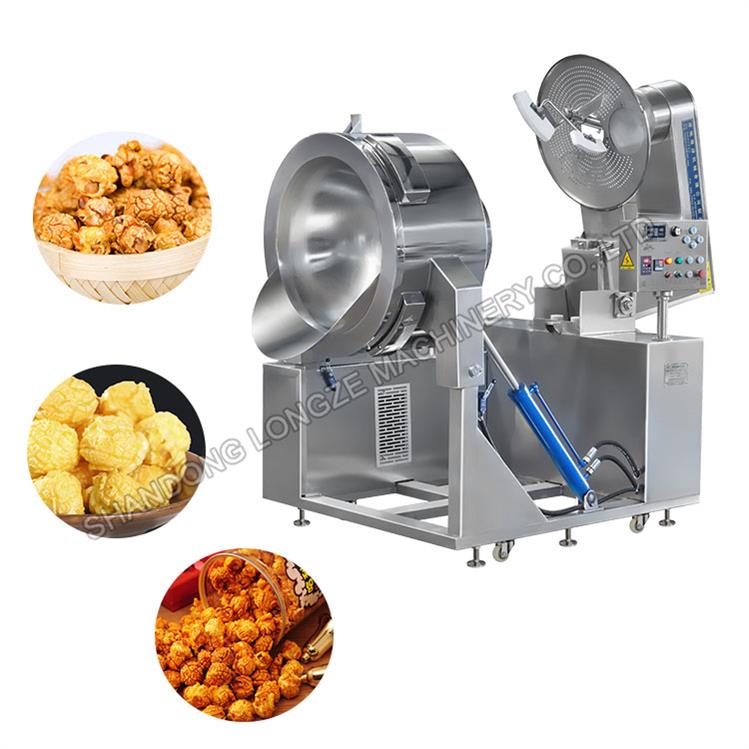 Industrial Butter Flavored Popcorn Machine For Direct Coating Caramel Flavor Chocolate Flavor Gourmet Popcorns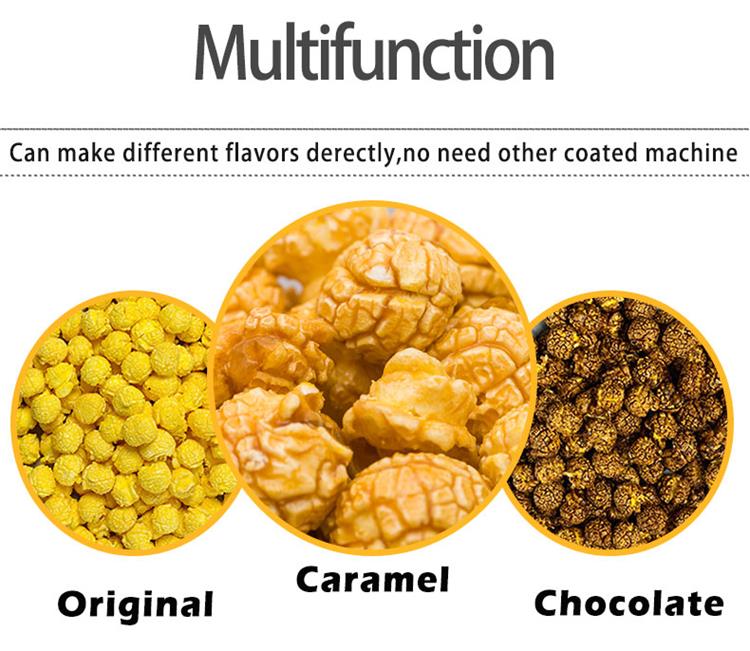 Industrial Butter Flavored Popcorn Making Machine Main features:
◆Industrial Popcorn Making Machine High productivity with 60kg popcorns per hour.
◆Less gas consumption equipped with high efficiency cooking range comparing with other similar types
◆Press-button for ignition, automatic gas entry.
◆Whole process under control of the control panel, easy to operate.
◆Fully mix with planetary mixing system.
◆Variable mixing speeds can be controlled during processing of caramel popcorns.
◆Specially designed scrapers touching thoroughly inner surface of the bowl to avoid burning.
◆Mixing arm can be lifted up automatically.
◆Popcorn Making Machine Bowl can be tilted 90 degrees automatically to allow popcornscompletely discharged.
◆Double safety valves to ensure its safe operation.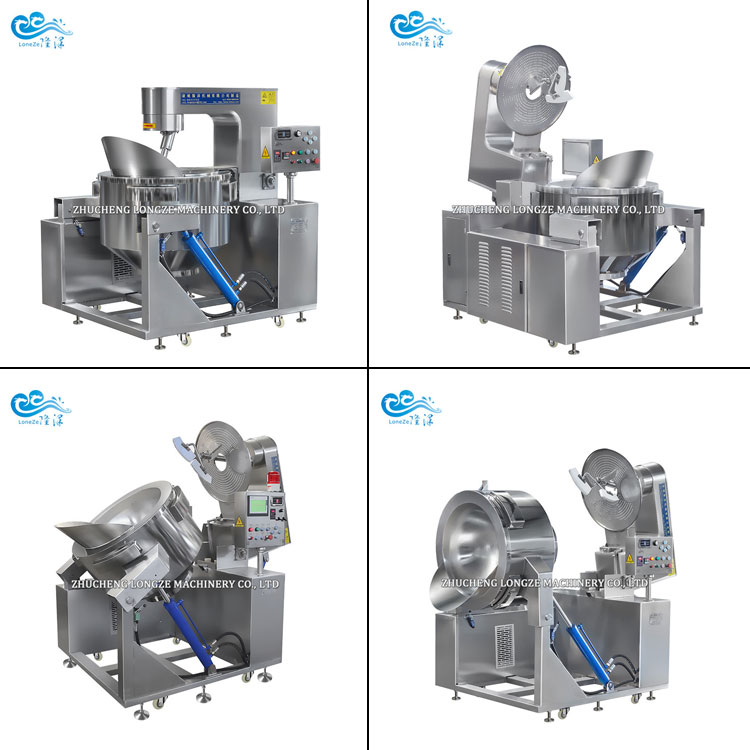 Attending Fairs
Loading&Shipping
Electric Caramel Popcorn Machine
Industrial Electric Popcorn Machine:
The above is a brief introduction of the spherical popcorn machine, provided by Longze Machinery Co., Ltd. If you have any questions, please contact the company further. In addition to this equipment, Zhucheng Longze Machinery Co., Ltd. also supplies various types of jacketed pans, popcorn production lines, cooking pots, frying pans, stuffing pots, horizontal woks, electromagnetic cookers and other equipment in large quantities.Welcome customers to visit our factory and understand, I wish you a prosperous business.


Shandong Longze Machinery is a famous professional designer and manufacturer of food processing machines with many patents and CE, BV, SGS certifications. Our main products include industrial popcorn machine and production line, cooking mixer machine, jacketed kettle, high pressue & vacuum cooking pot, etc., with wide range of applications to pastes, sauces, spices, confectionery, jam, fillings, dairy, eggs, flour, vegetables, meat, caramel, nougat, candied fruits, flavored nuts, popcorns……
Contact Us:
Shandong Longze Machinery Co.,Ltd
Company website:https://www.candyfiremixer.com/
WhatsApp/Wechat:0086 13153609533
Company Phone: 0086-536-6503337
E-mail:longzemachinery2@gmail.com
Address:Zhucheng Economic Development Zone, Shandong Province, the first five lines west
Please fill in the form and leave a clear message. We will contact you immediately.