The Industrial Honey Peanut Coated Machine production line mainly consists of 3 parts: industrial cooker, oil collection cart and drum mixer, Honey Peanut Coated Machine all of which are made of high quality stainless steel SUS 304, internationally recognized steel for cooking food materials. Durability and first class handcraft have earned us many regular customers and helped them achieve their business goal.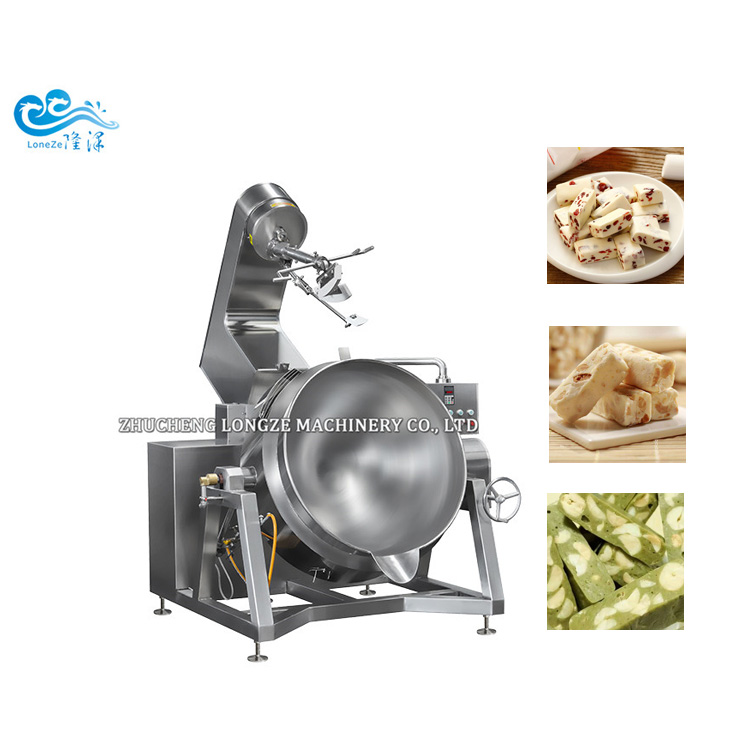 This Industrial Good Quality Peanut Cashew Nuts Honey Peanut Coated Machine production line aims to help customers to increase productivity while decreasing time and manpower cost. Nuts Peanut Coated Machine is widely used for frying and coating all kinds of nuts including peanuts, walnuts, almond, cashew nuts, etc. in snack food industry. It runs fully automatically with control panel, very easy to operate.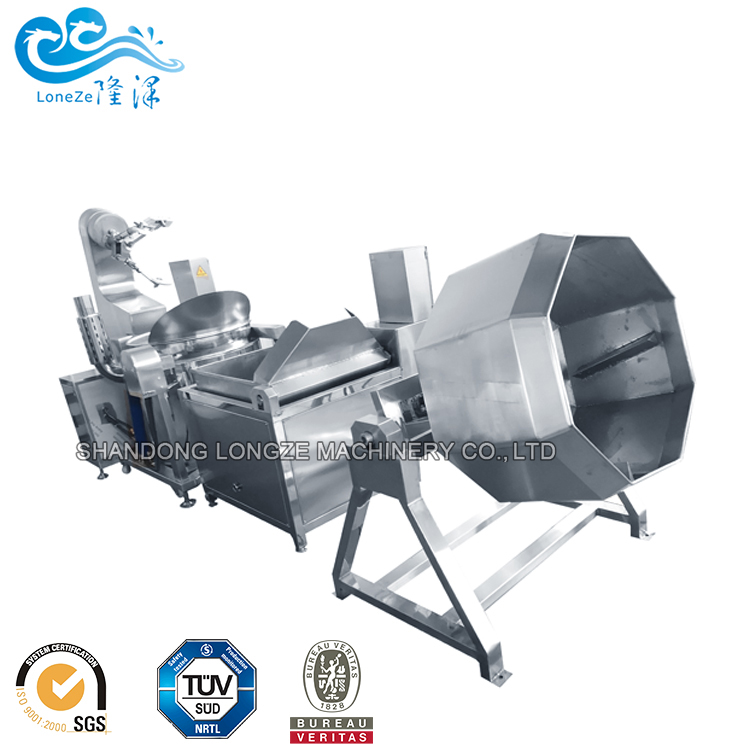 -Drum mixer: After nuts being drained free from oil, they will be immediately and automatically discharged into the drum mixer for coating with sesame, coco powder, fruit powder, etc. to get different flavors. The cooking mixer machine can rotate clockwise and anticlockwise and turn automaticaly or manually 360 degrees for easy loading and discharging.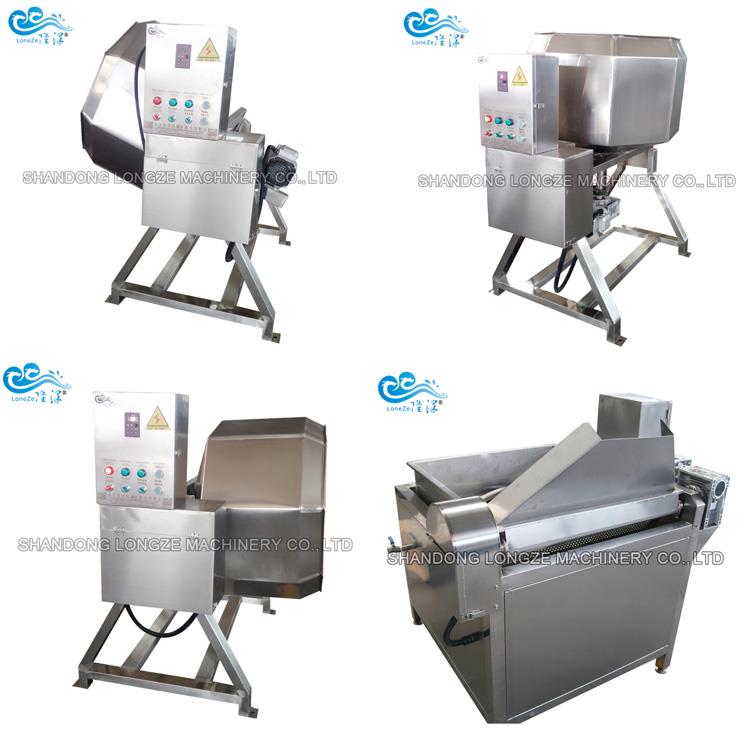 Industrial Honey Peanut Coated Machine Application
Our machine is applicable to producing all kinds of flavor coated nuts in an easy operation. The finished products are in polished looking and tasty, very popular among all snacks. A lot of customers have come and witnessed the test in our factory and got a satisfactory result.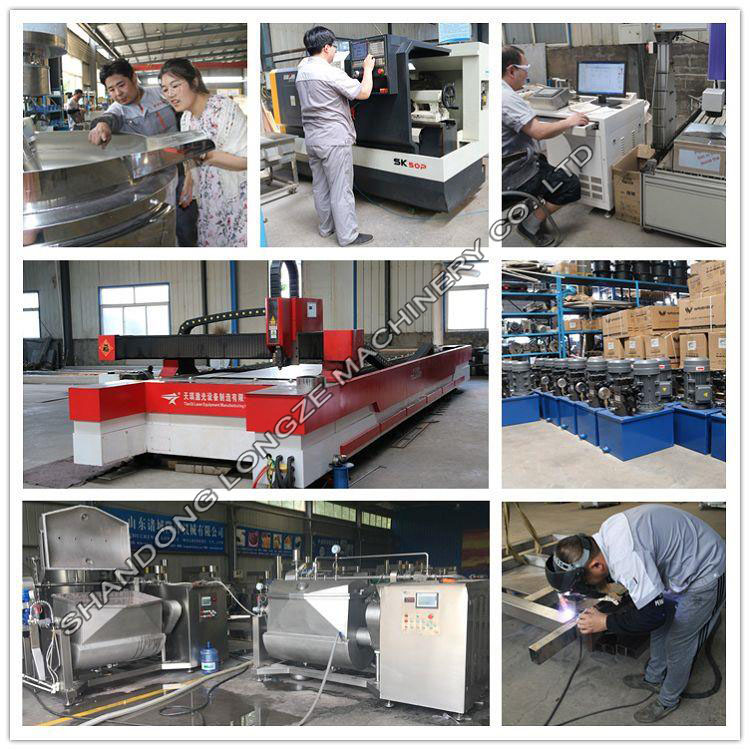 Pre-Sales Services:
To elaborate functions and features of inquired machines.
To help customers study and understand market situation.
To provide economical and practical cooking solutions.
To design and tailor as per customers' requirements.
To provide transportation and accommodations for customers' visit.
To supply raw materials free of charge for witness testing.
After-Sales Services:
To test repeatedly before packing and shipping to ensure its functional operation.
To ship and deliver as agreed and scheduled.
To assign experienced technicians for machine installation on-site if required so.
To provide promptly trouble-shooting solutions by telephone or email if any questions.
To provide 1 year warranty and lifetime maintenance for all products.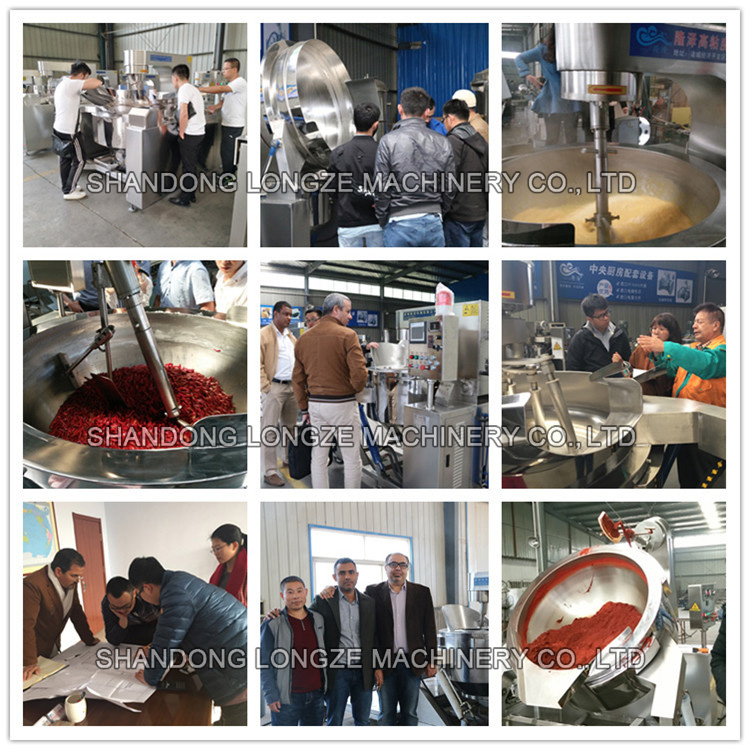 Our company has own logistics team and possesses all kinds of transportation vehicles and loading equipments including big lorry,half lorry, mobile crane, forklift, etc. Every day we have large quantity of machines loaded and delivered to our customers strictly following the agreed schedule. Our quality logistics services satisfy our customers and have earned us many regular customers.
Customers' Visiting & Testing:
For visiting customers, our company will arrange local transportation and accommodations, and provide necessary materials for testing with our machines. We have various types of machines available for customers' testing in our factory.
Shandong Longze Machinery Co., Ltd. ("Longze Machinery" in short), officially established in 2012, based in Zhucheng City, Weifang, Shandong Province, China, is a professional manufacturer of cooking and mixing machinery for food and snacks, including industrial popcorn machine, planetary cooking mixer, jacketed kettle, pressure/vacuum cooker, which are universal to make spices, chili sauce, curry sauce, fruit jam, sweets, Halva, paste, nougat, candied fruits, coated nuts, fillings, vegetables, meat------
Shandong Longze Machinery Co.,Ltd
Company website:https://www.candyfiremixer.com/
WhatsApp/Wechat:+86 13153609533
Company Phone: +86-536-6503337
E-mail:longzemachinery2@gmail.com
Address:Zhucheng Economic Development Zone, Shandong Province, the first five lines west
Please fill in the form and leave a clear message. We will contact you immediately.